Authentication solutions are now an essential tool among enterprises and organizations. Regardless of the chosen solution, they all struggle with the same difficulties: not only being able to verify someone's digital identity but also protecting it. Managing security risks and identity verification effectively is now a business priority as enterprises are growing their businesses in a complex digital ecosystem. Even though some organizations are already applying measures such as KYC (Know Your Customer) and ALM procedures to fight financial crime, fraud, and money laundering, none of them seem to be an effective response against vulnerabilities. Let's take a close look at cybersecurity solutions and everything you need to know about the necessity of stronger user authentication systems and biometrics as a powerful tool to prevent digital identity theft and fraud.
Talking about cybersecurity is becoming a must in the business world. At the present time all of them, regardless of their size, need to embrace the proper tools to battle cyber threats while innovating and going toe to toe with the increasing demands of the virtual world. With threats coming in all shapes and types, not only attackers and attack methods are evolving, but also landscapes are changing and reshaping themselves all the time.
Without a doubt, technology is moving at a rapid pace as well as new technologies and devices and so investing and adopting cybersecurity solutions is mandatory. Aren't you familiar with hearing year after year that we are facing the worst year ever for cyberattacks? Instead, every year gone by shows a darker future. A report from Arkose Labs done in 2020 about Fraud and Abuse showed that 445 million cyber-attacks were reported during the first three months of the Covid pandemic — a 20% increase as compared to the previous quarter. Organizations of all sizes and industries were hit by cyberattacks. From the Colonial Pipeline attack to Acer in Taiwan or the Melía Hotels in Spain. This scenario won't be changing but will just get worse if companies don't start doing something about it.
Conventional solutions just don't work anymore
Antiviruses have become traditional solutions that fail to provide the right protection for the current cyber threats. In a world driven by digital networks, online transactions, cloud computing, and automated processes organizations need robust and comprehensive technology to deal with these changing times. Even though antivirus tools have improved dramatically in the last years, Internet security experts are warning that this malware technology is becoming less effective and even making devices more vulnerable to breaches.
The same applies to passwords. They have become an outdated solution to nowadays digital-based reality. Users naturally tend to set the same password on more than one device giving attackers complete access to their digital lives. Even the 2nd step of authentication is inconvenient as it requires a second device. Login should be an easy and fast procedure that doesn't stress all the responsibilities on the users.
Multi-factor authentication is leading the way in cyber threats
Technology came to make our lives easier and more enjoyable and when talking about security it should be the same. It should provide simple but effective solutions. This is why multi-factor authentication has gained ground. Multi-factor authentication takes in three major concepts: something the customer knows (a password or pin), something the customer has (a second device, for example, a smartphone), or a personal/unique biological feature (such as fingerprints, facial features): something the customer is. All these, or a combination of them, prevents bad actors from entering an enterprise's systems because they are not able to provide the second authentication factor.
We all agree MFA solutions are really helping improve the security of authentication procedures by adding a second factor but what we must also consider is that this process needs to be simple and quick for users. What happens here with some MFA solutions is that they rely on a second password or device that rather than making things easy becomes a thorn in the side. Dealing with the inconvenience of being locked out of your accounts because your phone (where you get the second authentication password) went dead is for sure one of the worst possible scenarios in this daily task. But the answer to these problems is already part of our cybersecurity landscape: biometrics.
Biometrics is a growing, safe and accepted way to verify user digital identity and grant access to services on mobile devices. Basically, your body becomes the "key" to unlock your access focussing on security but without compromising usability. Here "passwords" cannot be forgotten or stolen as you became your flesh and bone access code. By combining facial biometrics and password, enterprises could achieve multi-factor authentication that is robust, truly reliable, and effective against cyber threats in the corporate and working environment.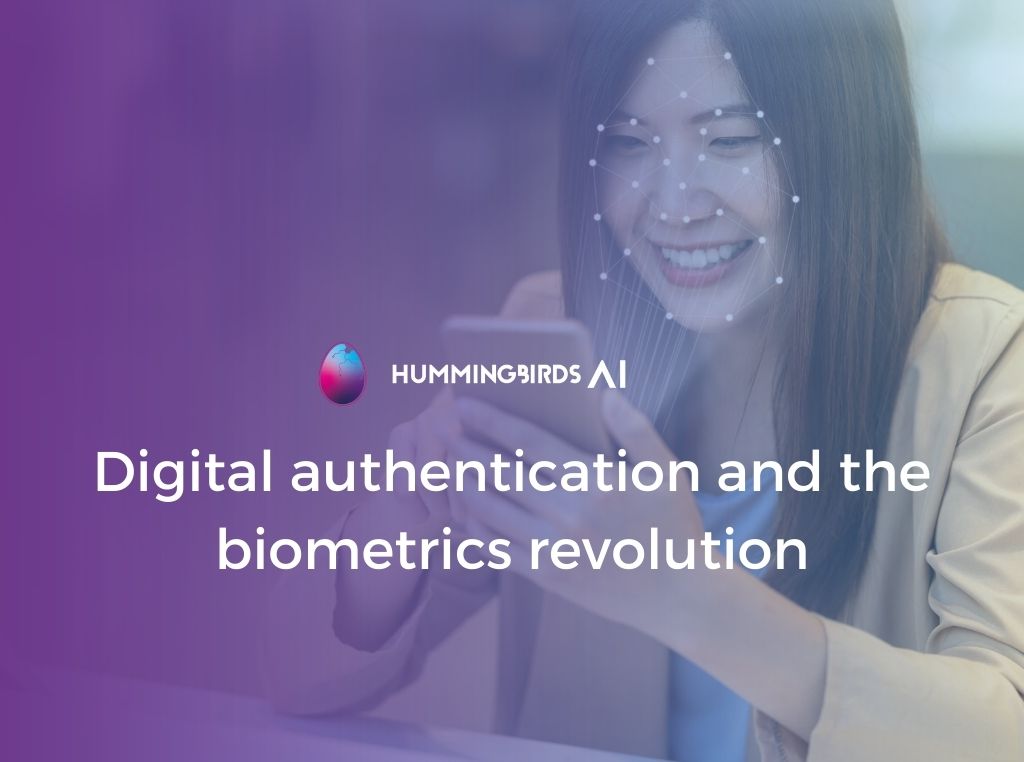 Taking Data Protection one Step Forward
At Hummingbirds.AI we developed GuacamoleID thinking about all this and even moving beyond. We aimed to develop a solution that helps secure and protect data continuously in a user-friendly environment.
By using video rather than the image, our solution is more robust than other authentication methods protecting users after login. GuacamoleID is the only continuous authentication tool through video biometrics on the market. How does it work? By using any webcam. Yes, the one that comes with your phone or laptop is ok. It doesn't require expensive 3D cameras and it's cloud-independent. Our AI solution was created on the premises of privacy protection and preservation which is why it is also device-based (privacy-first,). This means that the biometric information of the user remains in the device. So the user, whether an individual, an employee, or a company, has the certainty that their privacy is completely safe and guarded against intrusion, both internal or external.
GuacamoleID works as a face ID for computers authenticating access with real-time risk detection. This helps make sure there is always the right person behind any device with no push notifications or second credentials. Our solution makes onboarding, log-in, recovery, and conversion easier and seamless and the workforce becomes more productive by saving frustration and time.
Changing the financial and banking industries
This on-device video-based user authentication technology has started reshaping industries (and will continue doing so) such as Banking and finance. These industries have always been leading the way on security requirements as they store enormous amounts of consumer data and the consequences of a cyberattack (from financial to regulatory and even reputational) could be devastating. Banks such as the Bank of America spend over a billion dollars a year on IT and cybersecurity and in the last ten years, banks have spent $100 billion on technology, including technology-focused on security. That is why financial organizations have been quick adopters of multi-factor authentication to add barriers against hacking their digital identity and access management control methods (IAM). GuacamoleID helps organizations like this know and control who and what device is accessing their resources.
This technology also provides liveness detection. Most banks or financial institutions have life certificates as a mandatory requirement. This exposes elder people to long waits, endless queues in adverse weather conditions, the fear of being robbed, or simply the complicated process of having to move from one place to another. Through liveness detection, banks can authenticate the user, proving the beneficiary is alive as well as safeguarding against account takeover fraud as it distinguishes if someone using a photo of the benefice-holder wants to impersonate the user.
Government biometrics are moving to video-based solutions
When talking about Government organizations, biometrics have been widely used for many years. It all began with police officers using fingerprints as a way to identify suspects and was then also embraced for ID verification of federal employees and travelers. In 2016, U.S. Customs and Border Protection started working with airlines to use facial recognition technology as part of the pre-boarding process and in 2017, President Donald Trump signed an executive order requiring that the top 20 U.S. airports use biometric technology and facial recognition by 2021 for all international passengers. It is also important to note that Biden's Administration also took action on the matter urging federal agencies to strengthen their cyber defenses. The executive order released in 2021, promotes actions to improve cybersecurity in the federal government, such as zero-trust architecture and sets a goal for more effective and agile government responses.
Biometrics is an accurate and fast digital identification solution but the number of hacks involving biometrical data is growing at an exponential pace. What GuacamoleID offers in this case is a real-time video-based solution where only users can manage their biometrics, ensuring the safety of national borders and citizens. Data is captured by our software and is locally stored in the user's device. This way the information is not shared with third parties. This new tech allows obtaining more accurate biometric data at an overall faster processing time in situations where every minute counts. GuacamoleID also helps unify registration processes with privacy-first user authentication (for example when applying for Government benefits) and optimizing government workforce response.
At Hummingbirds.AI we believe in transformation and unsettlement, in wrecking barriers and embracing the modern workforce. Our technology is trained-strong and adapted to the harshest environments, making it more accurate than a selfie, and more resistant to any variation in the subjects or their surroundings. Continuous Authentication can massively increase corporate security by passively limiting the impact and likelihood of credential compromise, data breaches, and sabotage. At the same time, it increases employee productivity by not disrupting our modern way of working and user satisfaction with a seamless experience. It is a huge step forward in IT security and can help mitigate lots of issues simultaneously. We are revolutionizing the digital world, come and be a part of this transformation.