As technology evolves in a world driven by social networks, online transactions, cloud computing, and automated processes so does cybercrime. Cyber attacks are striking hard without signs of slowing down. To make it worse, the arrival of the COVID-19 just twisted the knife in the wound with the exodus of workers out of the office and into their homes. Aside from this unprecedented impact on societies and businesses, the pandemic outbreak showed up as a good playground for cybercriminals.
Cyber Attacks in Numbers:
The new normal landscape requires special attention on potential risks that not only disrupt normal operations but may cause damage to important business assets. As attackers evolve, so must our security solutions. So let's explore the 10 major cybersecurity attacks in 2021 and figure out if this could have been avoided or not.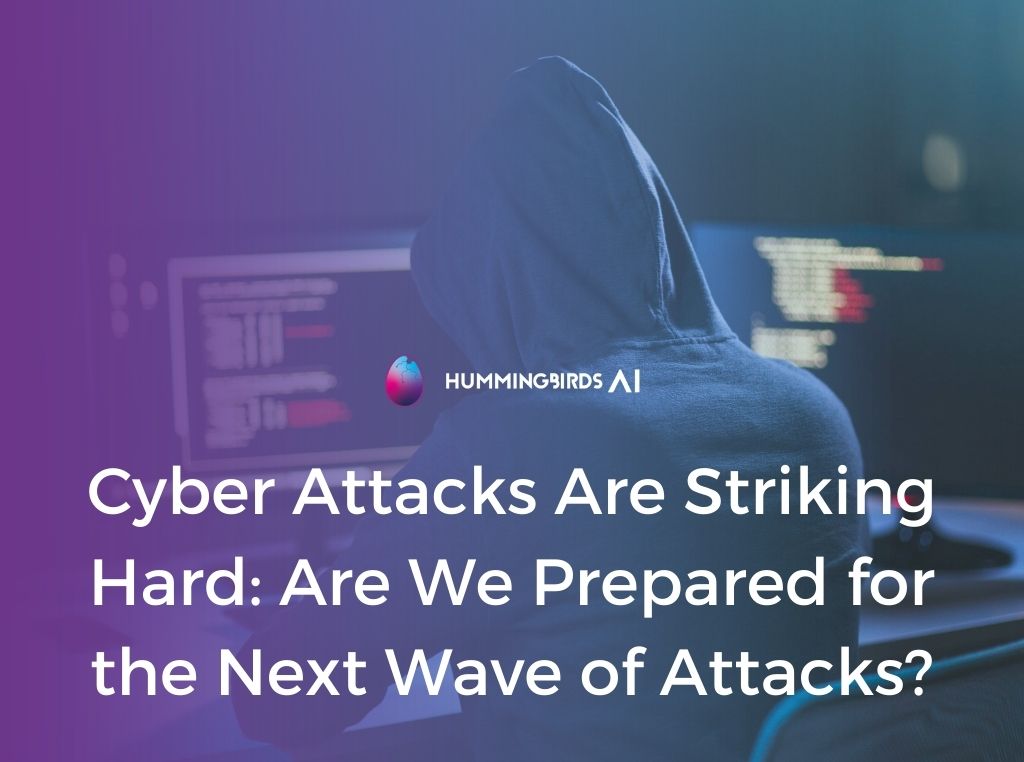 Top 10 Cyber Attacks in 2021-2022
Colonial Pipeline (United States) Cyber Attack
On May 7, Colonial Pipeline, the largest fuel pipeline in the U.S, located in Texas, suffered a ransomware cyber attack leading to shortages across the East Coast. The breach occurred using a legacy Virtual Private Network (VPN) system that did not have multi-factor authentication in place. In other words, it could be accessed through a password without a second-step verification process. Colonial Pipeline's CEO ended up authorizing a $4.4 million ransom payment to restore the systems. This kind of cyber threat is significant as well as alarming as it moves cybercrime to another level, closer to industrial targets. Using GuacamoleID could have been prevented. Our technology, combined with regular verification processes such as password access, provides a fast, easy, and user-friendly process to ensure that the right person is always behind the device. Apart from that, with the GuacamoleID Pro version, an administrator platform provides dashboard tools to react remotely to third-party vulnerabilities. So in case, a potential threat is detected, the app not only blocks the screen but also records footage of the incident, encrypts it, and sends it to the administrator.
Acer (Taiwan)
Taiwanese computer giant Acer was hit by a ransomware attack in March 2021. This electronics and computer maker well-known for laptops, desktops, and monitors suffered a data leak. The REvil hacker group had accessed Acer's network using a vulnerability in a Microsoft Exchange server and shared some of the stolen files including images of bank balances, bank communications, and financial spreadsheets. The hackers demanded a ransom of USD 50 million from one of the world's largest PC and device makers. REvil was the same group that attacked London foreign exchange firm Travelex in 2020. Acer also suffered two more cyber attacks during the year. Could all this be stopped? Yes, totally. GuacamoleID uses a sophisticated facial matching system to verify and confirm an individual's identity using face biometrics. Our platform is continuously running on the device securing the identity of the device owner as well as all sensitive data and when a potential risk is detected, the computer gets automatically blocked.
Florida Water Supply (United States)
In February 2021, hackers gained access to the operations technology system of a water treatment plant in Oldsmar, Florida. The attack attempted to poison the water supply by increasing the amount of sodium hydroxide -AKA lye- in the water supply to 100 times higher than normal. The attempt was frustrated by an operator who was able to reverse the change. In addition to this, last January a hacker´s attempt to poison a water treatment plant that served parts of the San Francisco Bay Area was also reported. But can these man-in-the-middle attacks be stopped? One of Hummingbirds AI solutions has the ability to prevent this. How? GuacamoleCX performs employee and workspace supervision with an emphasis on out-of-place objects and behaviors while preserving their privacy. When GuacamoleCX identifies an unauthorized object, a suspicious action, or an unauthorized person it records the incident and sends the footage to the supervisor or system administrator for review under a privacy layer for added privacy protection. This footage helps identify the perpetrator and act accordingly. We also use a closed-loop Architecture for Maximum Cybersecurity.
KIA Motors (United States)
Early in 2021, Kia Motors also suffered a ransomware attack by the DoppelPaymer hacker's gang, demanding $20 million for a decryptor and not to leak stolen data. This IT outage affected the internal sites, phone services, owner's portal, payment systems, and mobile UVO Link apps used by Kia Motors America. But these types of attacks that unfortunately are becoming too common, can be prevented by having trustable AI solutions. GuacamoleCX employs a proprietary group of facial matching, object detection, and behavioral analytic AI algorithms, running locally, in users' computers, without any need to transfer data to the cloud or using expensive servers. By using various sources of video and privacy filters, GuacamoleCX monitors employees' ID, actions, and contextual environment to ensure their actions are in accordance with your company's business and policies.
French Hospitals
At the beginning of 2021, two French hospitals were hit by ransomware attacks, and a third had to pre-emptively cut connections with an IT provider. All this happened just in one week. The intruders gained access to patient records, transmitting radiology imaging and other functions that enhance patients' risks. The attack had also interrupted radiotherapy due to inoperable computers. But even though "no deaths were directly attributed to hospital cyber attacks", the analysis showed ransomware attacks lead to worsened health outcomes. According to the Ponemon Institute, out of the 43% of healthcare organizations that reported being a victim of ransomware attacks, 22% told researchers their patient mortality rate increased after the attack. A whopping 71% self-reported their patients spent more time hospitalized. All this may be prevented with GuacamoleCX. The Action detection feature is oriented to identify correct procedures, and object detection makes sure the right person has the right info. So the patients' records go only to the right doctor.
York University (Canada)
In May, a Toronto university suffered a cyber attack just weeks after announcing a $250,000 COVID-19 research fund. A number of servers and workstations were corrupted, affecting more than 15 different systems, including popular collaboration software and financial records. Since the beginning of the pandemic, school networks have been accessed by a number of unknown devices making the understanding and mapping of these assets really complex. Discovering and managing unknown assets can be complicated without the proper use of tools. Using GuacamoleCX helps make sure the proper person is behind the device. And not only that, it ensures their environment is secured too. In addition to this, through our platform, you have the opportunity to review teachers' suspicious behavior in classes and identify violent language giving more confidence to parents about their children's teachers.
Meliá Hotels (Spain)
A cybersecurity incident hampered activities at Meliá Hotels International, one of the largest hotel chains around the world. The incident occurred during the month of October and affected Meliá's Spain-based operations primarily, where attackers took down parts of the internal network and some web-based servers, including its reservation system and public websites. Meliá is the 17th largest hotel chain in the world by the number of rooms and the 25th largest based on the number of properties. Using GuacamoleID helps prevent this by making Check-In and Check-Out processes more accurate and by creating a permissions system for the staff. Through these procedures, the organization may be able not only to secure travel procedures and protocols but also give permission to the right members of the staff to protect sensitive data.
Porto Seguro Insurance (Brazil)
Financial institutions have increased their use of IT due to the pandemic. With the digital transformation COVID-19 brought to our lives, these kinds of industries strongly rely on digital and remote solutions to perform their daily operations and to deliver their services to customers. While this has brought along benefits, the increasing reliance on digital solutions has also expanded the risk for cyber attacks like the one occurring to one of Brazil's largest insurance groups, Porto Seguro in October 2021. The company reported it suffered an attack that resulted in instability to its service channels and its systems. But Guacamole CX could have really prevented this. Our privacy-first AI technology platform automates human oversight by providing actionable insights for enterprises. Our platform performs supervision with an emphasis on out-of-place objects and behaviors while preserving their privacy and avoiding any theft of information or pictures being taken. This gives clients more confidence about the person handling the information.
Pichincha Bank (Ecuador)
In October 2021, Pichincha Bank in Ecuador was hit by a cyberattack that disrupted customers' access to bank services, including their online and mobile app tools as well as ATMs. After two days of silence regarding the bank's technical difficulties, Banco Pichincha issued a statement admitting that they suffered a cyberattack that led to the disruption of their systems. According to a new Trend Micro Report, the banking industry experienced a 1,318% year-on-year increase in ransomware attacks in the first half of 2021. As threats are growing not only in numbers but in sophistication, enterprises will require better security processes in order not to be exposed. However, even though digital banking solutions have enabled easy access to financial services for customers, they have also created cybersecurity gaps that can easily be exploited by hackers. With GuacamoleID we put special focus on this. Our AI technology is the first CVIV, Continuous Video-Based Identity Verification Platform. This allows safer ATMs, online and offline payment transactions, and account openings as well as secure credit requests & applications.
Iran's Transport and Urbanization Ministry
Iran's transport and urbanization ministry suffered a cyber disruption in its computer systems, taking its websites out of service during the month of July 2021. A day before this incident was reported, the country's railways also fell victim to a cyber attack. The electronic tracking of trains throughout Iran failed to result in hundreds of trains getting delayed or canceled. GuacamoleCX is a good solution being nourished by visual analytic technology. Hummingbirds .aAIi uses responsible AI to solve the most complex challenges of modern work using continuous video-based identity verification, object detection, and behavior analysis.
The list of cyberattacks may go on and on forever. These sorts of threats come in all shapes and sizes and with increased dependence on digital technologies came new opportunities for cybercriminals to exploit organizations. With this data in mind, it is clear that now more than ever, in this digital disruption era in order to identify cyber risk vulnerabilities rapidly, you need to handle the proper tools. In simple terms, this cat and mouse game won't be over until organizations and enterprises, regardless of their size, take action on this matter. Cybercrime is not something to be scared about but a thing to take care of and even though no one can really predict what the future holds, one thing is certain: cyber threats are not stopping. So taking action is a resounding must for all.