The world is undergoing all sorts of transformations and so are our borders. Borders are the front lines of a country's defense, the movement of goods and people across them is vital to the health of economies all over the globe. They have shifted from being a simple line on a map to a complex geopolitical landscape where flows of services and data play a much bigger role in tying the global economy together. So here is where technology appears, trying to make things easier and safer. Biometric solutions are becoming essential to overcome border control's challenges and fight fake identities or forged documents by using face matching systems. As Susan Penksa, Head of the Security Co-operation Department at the OSCE Mission to BiH, pointed out "Criminals have diversified their counterfeiting techniques and methods as they look for ways to assume fake identities without detection". Together with these unpredictable risk levels and changing restrictions, governments need to deal with increasing security requirements and reduce security threats while providing a more human border management.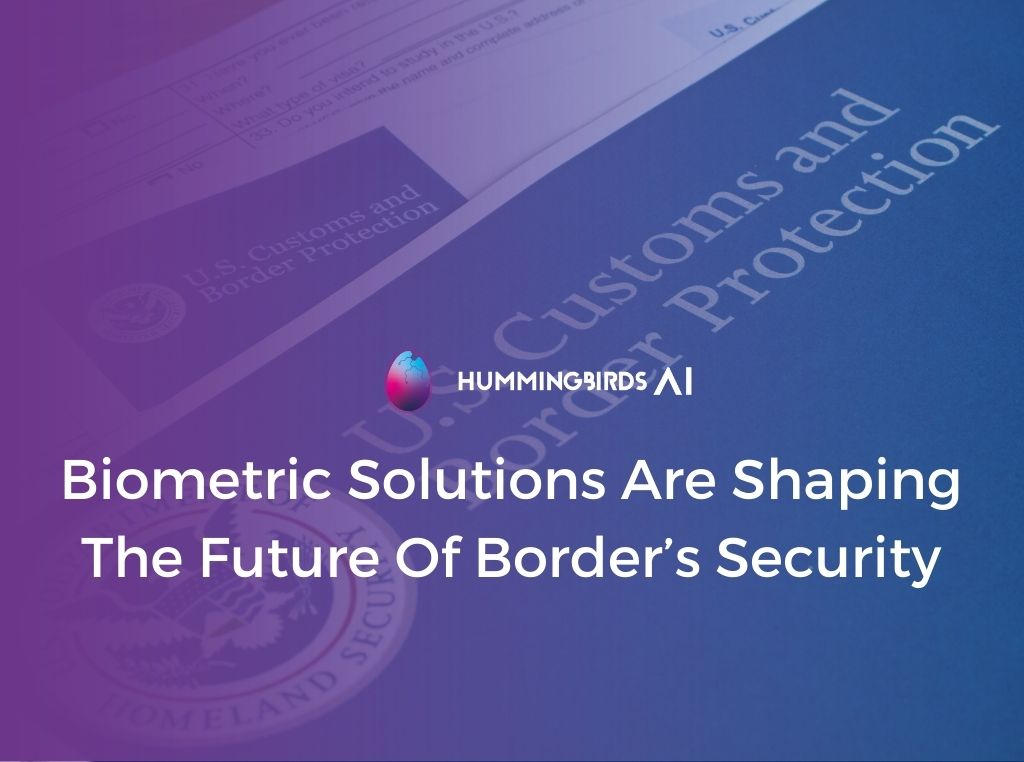 Security management requires better solutions
This new global context not only urges for a solution that can quickly identify travelers as they enter and exit countries by land, sea, and air but also requires global leaders to rethink the policy framework and work on better, safer and secure ways for people to move across borders. So it's here where biometric technology solutions appear as an important asset, helping Industries such as travel and tourism not only to make the traveling experience easier but also to ensure the safety of national borders and citizens. Some simple examples of its use and how helpful it may become clear when used at a border inspection. Face matching can be used to help decide whether to admit a traveler into a country or not as well as to enhance the efficiency for government agencies involved in these tasks.
That was the topic at the conference held by the Atlantic Council where Homeland security experts talked about how US Customs and Border Protection (CBP) can leverage biometrics to improve operations at US entry points while balancing security and civil rights.
Face recognition isn't just face identification and verification
According to US Deputy Commissioner Troy Miller, the CBP has used biometric facial comparison since 2018 and from that point until now over 1.200 impostors have been identified. "During 2021 CBP processed almost 500.000 passengers and pedestrians this includes over 120.000 international air passengers and over 360.000 land travelers and 8.000 passengers arriving on boats. In the pre-pandemic era we  processed over a million travelers every single day".
As a spokesperson from the CBP, Miller made clear the importance of privacy and its implementation: "CBP has implemented face matching technology at 205 US airports including pre-clearance locations and at 32 airports for passengers exiting the United States. as well as at 151 pedestrian crossing locations, 97 ports of entry and 11 seaports across the country. CBP has processed more than 131 million travelers using face matching". He also stated that "global entry kiosks have reduced passenger processing times by nearly 90% and airline partners using this technology have reported reduction in boarding times".
Managing security without crushing civil rights
Seth Stoddler, a nonresident senior fellow of the Atlantic Council who also teaches national and homeland security law and policy at the University of Southern California, spoke about his experience dealing with identity verification processes after 9-11 and the challenge to achieve security without crushing America's economy. "We couldn't reduce security but we had to achieve that security without crushing the civil liberties and privacy rights that we all cherish". He also added, " After 9-11 of the huge wait times at the land borders and the shutdowns the visas and all that that we needed to police those systems to reduce the bottlenecks at the actual border checkpoints and that was how we were going to manage the risks achieve the security that we needed but also facilitate the movement of lawful travel and trade."
Stoddler also focused not only on the benefits of facial matching among checkpoints but also on how the technology works: " what CBP is doing is automating a process that already exists which is the verification that the person walking in front of a port of entry is the person who is on the document".  In addition to that, he pointed out that biases and accuracy are among the top concerns at CBP, and so they have found in facial matching the accurate answer they required. "These facial comparison technologies that CBP is using are actually more accurate than human eyeballs in identifying imposters and also they are less susceptible to the biases that we all have as individuals when we do instinct."
Easier and faster ways to face nowadays world
However, with new technologies citizen's concerns also appear. New techs are for sure reshaping the world but rules, protocols, and standards for this transformation must be settled. Teresa Cardinal Brown currently the lead for immigration and border policy issues at the Bipartisan Policy Center, stated about this: "We are in an era where frankly trust in government is reduced in a lot of quarters and that lack means that government agencies that want to use this kind of technology have to be even more transparent, more forward leaning in describing and talking about exactly what they're doing and how they're doing it"
During the event another point of discussion was how this technology is being used and how it works. John Wagner, former CBP deputy executive assistant commissioner and member of the Advisory Board of Hummingbirds AI,  dived deeper: "CPB can build a gallery of photographs of who's expected to travel that day because the airlines tell them who's flying. They already have access to the passport photos and the visa photos including U.S citizen photos from the department of state." Due to the use of face matching technologies "not only do you have to not physically look at the passport but you don't even have to read the boarding pass. What we saw is the airlines were boarding planes faster and a lot easier. We are automating a manual process where an officer or an airline person would look at you, know the photo manually but it's also replacing the biographical match that we do against the enforcement records" 
What about cybersecurity & vulnerabilities?
Craig McIntyre, master technologist went over the technical features of this technology and highlighted: "through capturing the facial biometric we're obtaining a more accurate biometric data that can be used for those downstream processes and we're also looking at overall faster processing time. Facial matching has significantly improved to be less than one second from the time that picture is submitted into the galleries." Moreover he focused on cybersecurity, the protections and practices required: "We do things such as static code analysis during the development to identify security vulnerabilities in the software and resolve them before that application is deployed into production manual and automated testing process specifically focus around biographic and biometric data to ensure we have compliance with the requirements. Then you have encryption of that data whether at rest or in transit and then finally during the time the application is running, the systems have specific controls that limit the users and the systems that can run on those particular devices and access."
Great power comes with great responsibility
Biometric solutions are rapidly becoming part of our daily lives and most of us are already interacting with some form of biometric authentication constantly. This technology makes people's lives easier and simpler, saving time, money and recourse without neglecting safety and security.
In addition to that, their implementation into border security and management is becoming of paramount importance as it offers limitless opportunities to create a more secure, connected, inclusive and clean world. Furthermore, when talking about protecting sensitive data, with covid-19 the need for these contactless solutions has become more of a necessity than a nice-to-have feature across diverse industries such as tourism and travel.
Biometric solutions are improving really fast and it is difficult to predict how they will look just some years from now. But with these changes taking place there is also a need for policy makers, political and business leaders to play a part and work on frameworks for this not so far away future, safeguarding people's liberties and still keeping the world connected and safe. 

In these fast-moving times, the list of new technologies grows every day and societies are at a major turning point. Times like this require embracing changes and working on policies not only for a better future but also for a better present. This means listening to the citizens' concerns when it comes to privacy and  biometrics in a way that the right smart solutions are shaped according to the security needs but also the expectations. Privacy-first biometrics are then the true answer to smart borders in the present and also in the future. Assuring privacy will ease the way migration movements flow and will, at the same time, clean the biometrics spectrum from those who don't guarantee something as crucial as user privacy. There needs to be an agreement so that the use of ethical privacy-first technology becomes the norm.